AI technology has a more and more widely application in all kinds of industries, especially the home appliances industry. 'Making Life Intelligent', TCL released its full-scene AI and the 4T Strategy which centered on the ecology of AI×IoT. On AWE 2019 (Appliance & Electronics World Expo), TCL air conditioners, one of the core products of TCL, attracted a lot of attentions for its new arrival - TR series new floor standings.

New Generation of TR Floor Standing Air Conditioner:
The extreme expression of TCL brand concept and pursuit
TCL new arrival TR series floor standing air conditioner is ideal for a smart user-experience in the living room. Outstanding features includes the dual-zone temperature control, which can provide different experience of temperature for different users in the same living room. Built in smart body sensor will automatically identity users' location and adjust its wind speed,air volume automatically. Dual air outlet and extra large air supply angles can provide excellent cooling to every corner of the room.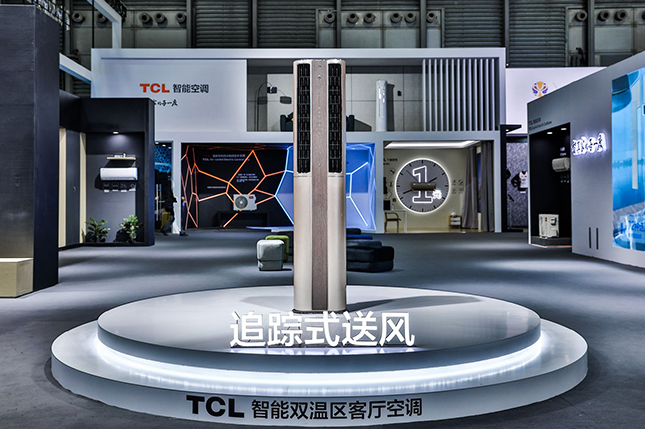 Furthermore, the gentle cool wind mode and the wall redirection of air flow technology prevent blowing harsh wind towards users.
Air humidity and cleanliness are another two important issuers of a comfortable room. Under the control of TR series, a room can always stay at right temperature and humidity. Even in the moist rainy days, the dehumidification function of TR is still strong without temperature decline.
To create a green living environment, TR series is also equipped with a completely intake air purification system which has efficient electrostatic dedusting function and PM2.5 extermination. 55℃ high temperature self-cleaning technology help to clean itself and sterilize the air. Besides, its filter-cleaning reminder will automatically detect the cleanliness of the filter and remind users of cleaning after running for a particular period.

TCL Air Conditioners - Fully Engaged in the Competition of AI×IoT
Driven by AI application of TCL, the revolutionary improvements of air conditioners has led to the control upgrade, intelligent IoT and intelligent air supply. Series of improvements have been kept in line with the concept of consumption upgrade, and provided best solution and ultimate user-experience to users.
It is its 20th year since entering into air conditioner industry. TCL has taken full-scene AI as opportunities and advantages, in order to provide more and more true intelligent air conditioners to global users, as what its ID revealed - 'SMART AIR WE ENJOY'.